Pastor-Elder Stanford A. Webb Jr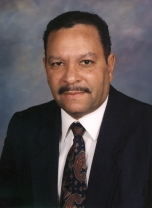 Email: elderwebb@faithtemple.com
Words of encouragement from Bishop James M. Foster
ELDER STANFORD WEBB, JR IS THE SON OF THE LATE ELDER STANFORD WEBB, SR AND THE LATE MOTHER RUBY O'NEAL WEBB. HE WAS SAVED IN 1960 AND SHORTLY AFTER, CALLED BY GOD TO PREACH THE GOSPEL. HE WAS ORDAINED UNDER THE LATE BISHOP G.E. VAUGHN. HE SERVED AS ASSISTANT PASTOR TO HIS FATHER FOR NUMEROUS YEARS. THOUGH HE AND HIS FAMILY HAVE ENDURED MANY TRAGEDIES AND TESTINGS OF GOD, HE CONTINUES TO UPHOLD THE BLOOD STAINED BANNER FOR THE LORD.
IN FEBRUARY OF 1976, THE CHURCH IN WHICH HE LABORED WAS BURNED BEYOND REPAIR. IN SEPTEMBER OF THE SAME YEAR HIS TWO SISTERS WERE MURDERED AS THEY PREPARED FOR SUNDAY MORNING SERVICE.
IN 1991 HE LOST HIS MOTHER. FOUR MONTHS LATER HIS FATHER/PASTOR PASSED AWAY UNEXPECTEDLY. AT THAT TIME, ELDER WEBB, JR ACCEPTED HIS CALLING TO A HIGHER POSITION AS PASTOR.
ELDER WEBB, JR HAS NOT CHANGED SINCE BECOMING PASTOR. YOU WILL FIND HIM CUTTING THE GRASS, PAINTING, CLEANING THE CHURCH, AND ANYTHING ELSE HIS HANDS CAN FIND TO DO. HE IS A VERY HUMBLE, FAITHFUL, DEDICATED, HIGHLY ANOINTED MAN OF GOD.
IN 1997 HE RETIRED FROM SEARS AFTER WORKING THERE FOR 40 YEARS, HE IS NOW ABLE TO FULLY DEVOTE HIS TIME TO THE CHURCH AND HIS MINISTRY.
IN 2002 GOD TESTED HIM EVEN FURTHER BY CALLING HOME HIS BEAUTIFUL WIFE OF NEARLY 42 YEARS. BUT THROUGH IT ALL HE COUNTS IT ALL JOY AND CONTINUES TO PREACH THE UNADULTERATED WORD OF GOD! HE IS A HIGHLY RESPECTED MAN AND HIS FAMILY AND CHURCH FAMILY LOVE HIM DEARLY AND ARE PROUD TO CALL HIM OUR PASTOR.