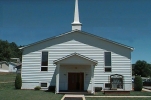 625 Knox Street
Indiana, Pennsylvania 15701
(724) 349-8320
FAITH TEMPLE CHURCH OF GOD IN CHRIST WAS FOUNDED IN 1955 BY ELDER STANFORD WEBB, SR.
HE STARTED THE CHURCH IN A VERY SMALL, POORLY CONSTRUCTED BUILDING. THE WALLS WERE SUPPORTED BY CABLES AND THERE WAS NO INDOOR PLUMBING.
THE CHURCH WAS HEATED BY A COAL STOVE THAT SAT IN THE SANCTUARY.
AFTER LABORING IN THAT CHURCH FOR APPROXIMATELY 24 YEARS, GOD TOLD ELDER WEBB THAT HE WAS GOING
TO GIVE HIM A CHURCH.
IN 1974 THE CONGREGATION MOVED TO ANOTHER CHURCH 2 BLOCKS AWAY. THE CHURCH WAS LARGER AND JUST BEAUTIFUL IN OUR EYES,
BUT GOD YET TOLD PASTOR WEBB THAT HE WAS GOING TO GIVE HIM A CHURCH AND ON FEBRUARY 2, 1976 FAITH TEMPLE BURNED BEYOND REPAIR. PASTOR WEBB, SR. AND ASSISTANT PASTOR ELDER WEBB, JR,
WERE THE FIRST ON THE SCENE. THEY WERE HEART BROKEN TO SEE THEIR CHURCH DESTROYED AND EVEN SHED TEARS, BUT TRUSTED THAT GOD WAS GOING TO MAKE A WAY! FOR 4 YEARS THE CONGREGATION WORSHIPED AT THE LOCAL COMMUNITY CENTER. WITH A SMALL CONGREGATION AND NOT MUCH MONEY, GOD TOLD PASTOR WEBB TO BUILD A NEW CHURCH. ELDER WEBB, SR. TRULY STEPPED OUT IN FAITH BY BEING OBEDIENT TO GOD.
WHEN PASTOR WEBB STEPPED OUT ON FAITH, THE MONEY LITERALLY BEGAN TO POUR IN AND IN 1980 WE MOVED INTO OUR NEW CHURCH.
GOD HAS BLESSED US BEYOND MEASURE. WE HAVE LEARNED TO WAIT ON GOD AND TRUST THAT HIS TIMING IS PERFECT!
Words of encouragement from Bishop James M. Foster
Here is a map of our location