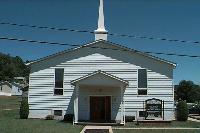 Faith Temple - Church of God in Christ
625 Knox Street
Indiana, Pa. 15701

RealAudio is required to hear the audio on these pages.
Download Real Audio from our web page CLICK HERE!
or
Click the RealPlayer Logo to download your free copy of the G2 RealPlayer today.

---
Instructions
---
Use the menu to the left to select the book and chapter of the Bible you want to hear, then click the chapter number. The audio will start playing automatically. If you want to go to a different chapter, just select it from the menu. You can drag the border between the menu and the text with your mouse and use the links at the bottom of the text page to go to the, previous or the next Chapter. You can do your daily Bible reading here, the color of the number of the Chapter you have viewed changes. This is like keeping a bookmark in your Bible. If the RealAudio player interferes with the text, get version 5 of RealAudio it has a Compact Display option. To search the text of the Bible click here.
---